No matter how accordingly and strictly you follow the driving laws, you are only one driver among thousands on the road. With that in mind safety always comes first, doesn't matter if you are a long-haul truck driver or a short-haul one, and in the article below we will explain a few tips that every trucker should know.
Learn Defensive Driving
Always remember that not everyone will adhere to the rules as you do, and they can be a safety hazard for all drivers. The point of defensive driving is to, no matter the situation, always be calm and prepared.
Drive at safe speeds
If you come across a situation where you need to hit the brakes because there is some trouble ahead, your driving speed will affect how fast you can stop your vehicle and avoid an accident. If it's raining or there's ice on the road, keep in mind that it will take you more time to come to a complete stop. With these factors in mind, always adjust your speed to the conditions on the road.
Keep a safe distance
FMCSA recommends 1 second of distance for every 10 feet of vehicle length traveling at 40 mph. To calculate this distance, you can observe an object like a traffic sign, a tree, or something similar. When a vehicle in front of you passes the object count how much it takes for your vehicle to pass it. Keeping a safe distance gives you more time to react and more space for breaking if an accident arises in front of you.
Be aware of other drivers
No matter how accordingly and strictly you follow the driving laws, you are only one driver among thousands on the road. Always remember that not everyone will adhere to the rules as you do, so make sure to observe others driving and never assume other driving intentions. Someone might turn on the turn signal and turn in the opposite direction, or signal you to overtake them when that is impossible, so always be alert and don't take unnecessary risks.
Keep a lookout on your surroundings
Check your mirrors every few seconds, so you can maintain full awareness from all angles. Also keep an eye out for holes or bumps on the road, to avoid damage to your vehicle.
Always Plan Your Trip
Taking the time to thoroughly plan your trip always pays off and makes your haul more efficient and enjoyable. There are many things to consider when planning your trip, but the most important ones are:
Restricted Routes
Check if the route includes bridges that have weight restrictions, truck-restricted roads, and low clearances. Failing to take these kinds of obstacles into account can take a toll on your wallet if you get fined and waste your precious time.
Congested Traffic
More traffic equals a bigger chance for an accident to happen. Lengthy traffic jams can delay your delivery significantly, so avoiding them is highly advisable. There are plenty of apps where you can see the congestion on the road in real time, and checking them regularly can make a big difference if you are in a hurry.
Inclement Weather
Check the weather reports before and during the trip, so you'll be able to adjust your driving or change your route on time if needed. There are some apps like Trucker Path, Weather Channel, and MyRadar that can help you with adjusting for specific weather.
Avoid areas with higher crime rates
Depending on the cargo you are hauling, it could be a valuable target for theft. Do some research on the areas you are passing through, and avoid stopping in isolated and poorly lit areas. Try to plan your stops to be as safe as possible to prevent harm to the cargo, and most importantly to yourself.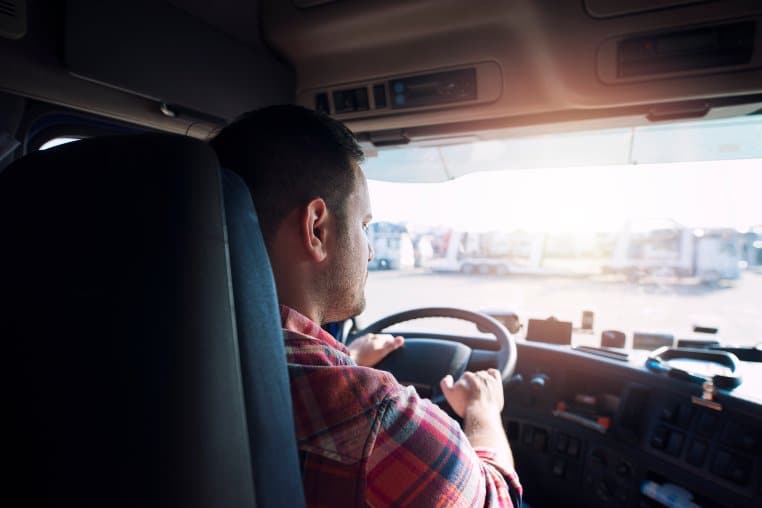 Take a Break When You Need One
Fatigue in truck drivers is one of the most common causes of accidents on the road. It is required by law to take breaks, and the FMCSA has created hours of service regulations that the drivers must adhere to. Take breaks whenever you feel like you lost your concentration, take a stretch, and take regular walks. This also lessens the pain caused by the driver's knee, which is a condition where the tendon that connects the shin to the knee gets inflamed and causes serious pain.
Also if you get stressed out by avoiding an accident or something similar, make sure to pull over to a safe spot for parking and calm down before continuing the trip.
Secure Your Cargo
If your cargo isn't properly secured, it can cause all kinds of problems on the road. Depending on the type of trailer you are using, and the cargo you are carrying be sure to double-check if the load is evenly distributed, tightly secured, and in accordance with regulations.
Proper Pre-Trip and Post-Trip Inspection
A truck pre-trip and post-trip inspection is an essential step when safety on the road is concerned. They are so important that they are required by law. Before any trip take the time to do a proper pre-trip inspection, and after every trip check if everything works as it did in the pre-trip inspection. Especially pay close attention to the braking and steering systems, since they can cause most safety issues if not working properly.
Adjust for Bad Weather on Time!
Disregarding bad weather conditions can be a huge safety risk for you and other drivers. Always check the local weather reports, and be prepared for anything that comes your way.
This is one of the most dangerous conditions according to many professional truckers. When the temperature drops below freezing and it's raining, it can be challenging to keep control of your vehicle. The best thing to do is to find a resting area and wait for the conditions to improve.
Strong winds aren't the most common issue you will come across, but still very dangerous if you ignore them. They are most typical on wide-open highways. If you come across very strong crosswinds, especially if you are carrying light cargo, park your vehicle at a safe spot and wait for the wind to die down.
Heavy fog will drastically reduce your ability to see far, and the visibility of your vehicle. Slow down, keep your headlights on low beam, and check if your marker lights are working correctly.
When traveling in the wintertime, always make sure to bring tire chains with you. In case of a snowstorm make sure you are fueled up and have adequate warm clothing since it can be days before the highway is cleared of the snow.
Scorching hot temperatures can do serious damage to your rig. Overheated highways can literally melt your tires. Also, your engine can overheat much faster in these conditions and do serious damage to the motor. When driving in hot weather it's best to take a break during the hottest part of the day and continue in the evening when the temperature drops.
Looking for a Job in the Trucking Industry?
We are always on the lookout for regional and OTR CDL Class A truck drivers. About 90% of our vehicles are newer trucks and trailers (2022 and 2023) available for lease to rent and own. If you want to be a part of the Nice Guys LLC team, contact us and we will get in touch with you as soon as possible.