Whether you are in for a long haul or a last-mile delivery, a truck pre-trip inspection is the first thing any trucker should do before beginning any trip. The purpose of the inspection is to make sure that your truck, cargo, and trailer don't have any issues that could cause trouble during the trip.
When Is It Required to be Done? 
It is required by law to carry out a pre-trip inspection once in at least 24 hours while on the road, and before starting the trip. Every trucker should have a checklist, and must thoroughly check the vehicle at the start of each day.
How long should it take?
There aren't any specific rules on how long an inspection should last, but in most cases, it shouldn't take you more than 30 minutes. It is very important not to rush the inspection, since you could miss something that could be a threat to your safety or your cargo while on the road. So take your time, carefully follow the checklist and double-check everything if in doubt, no matter how long it takes.
Pre-Trip Truck Inspection Checklist
Before starting the inspections, make sure you have a checklist of things you are required to inspect. The best way to carry out an inspection is by doing it in the same order every day, and in time it will become a routine. If your company doesn't provide you with a checklist, you can find lots of customizable ones online.
It is very important to not miss anything during the inspection, so you can use this list as a personal reference when doing your next inspection.
Under the Hood
Engine – Check the level of oil and refill if needed. Also, inspect the spark plugs for any damage and carbon buildup on them

.

Battery – Inspect the battery for any leaks and make sure that is fully charged and in good condition.
Fluids – check the coolant, brake, transmission, and power steering fluid. If there are leaks or if it smells like burnt rubber, it's time to change it.
Outside the Vehicle
Cargo – check the load covering for damage and wear/ check the securement devices
Coupling devices – inspect them for missing or loose fasteners
Doors – check if the sleeper, compartment, and cab doors close securely
Reflectors and Lamps – inspect them to see if they are lighting up properly.
Fuel Tank – check for leaks.
Mirrors and Windows – ensure there are no cracks on the glass and that they are secure.
Exhaust System – inspect for any leaks including in the driver cabin.
Tires – make sure the sidewalls and treads are ok, check the air pressure, and that there are no air leaks or flat tires. Also, make sure that the tires aren't in contact with any other components.
Wheel hubs and fasteners – Check if they are fastened, without leaks, and secure. The oil of the hub should be above the minimum level.
Suspension System – Ensure that there are no air leaks. Check if there are broken or missing spring leaves or fasteners.
General – Look for any deterioration or general damage to the vehicle.
Inside the vehicle
Drivers Seat – ensure there is no damage to the seat and that it can be set when changing position.
Seat belt – check if the seat belt can be properly fastened.
Horn – check if it works correctly.
Emergency equipment and safety devices – check if they are missing, damaged, and easy to access.
Defroster/Heater – ensure that they are working correctly.
Cargo – check the inside of the trailer if the cargo is securely in place to avoid shifting and damage to the trailer during transport. Also, don't forget to check the weight of the truck to 

avoid overweight fines

.
Vehicle Controls
Parking Brake – ensure that it works correctly.
Driver Controls – check if the gauges, clutch, brakes, indicators, accelerator, and other controls are working properly.
Headlights – check if all the lights on your vehicle are operational. This includes tail lamps, turn signals, low beams, and brake lamps.
Windshield Wipers – Make sure that the wipers are in good condition, check for missing blades, and replace them if needed.
Steering Wheel – Inspect the steering wheel making sure it's functioning properly.
Air Brake System – Inspect the air brake system for any air leaks and loss of pressure.
Don't the Forget the Emergency Kit!
An emergency kit can often be overlooked, but having one might be the difference between life and death in unpleasant situations. An essential emergency kit for any truck driver should include the items listed below.
A basic first aid kit is a must no matter the distance you travel. It should include pain relievers, gauze, bandages, and something for disinfecting wounds like hydrogen peroxide or an iodine solution.
Even if you are not a mechanic a basic set of tools, might come in handy to get you back on the road. Always have a socket set, wrenches, spare fuses, screwdrivers, and some duct tape.
FMCSA Emergency equipment
Fire extinguishers, spare fuses, and warning devices are not optional since they are required by law. You can find the detailed list of necessary items in the Code of Federal Regulations.
Having emergency food and water is especially important if you are hauling to remote locations. If you get stranded in a remote and inhospitable location, help might be days away so always make sure to bring as much water as possible and some canned or dry food.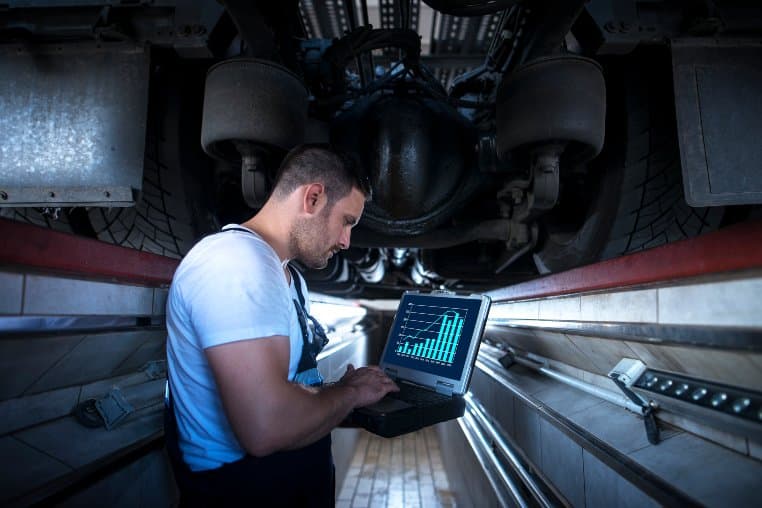 Conclusion
The pre-trip inspection is not an unnecessary time-waster that the law requires you to do. Its purpose is to make your life on the road much easier and save you time and money in the long run. You should always have a serious and meticulous approach when doing every inspection to have peace of mind while driving.
Looking for a Job in the Trucking Industry?
We are always on the lookout for regional and OTR CDL Class A truck drivers. About 90% of our vehicles are newer trucks and trailers (2022 and 2023) available for lease to rent and own. If you want to be a part of the Nice Guys LLC team, contact us and we will get in touch with you as soon as possible.