You are on a long-haul delivery, it's time to call it a day, find a parking spot, and get some well-deserved rest. Seems pretty straightforward, but finding a parking spot and parking your semi-truck can be more challenging than you think. According to a survey from 2015, semi-truck parking was one of the most critical issues drivers face, and it remains an issue still. We have compiled a list of tips that can make your parking experience less stressful.
Always Plan Your Trip
Planning your trip is always a smart thing to do, especially if you are going on a longer trip. When planning where to park, always try to find alternative parking spots nearby, in case the first one is full. Various smartphone applications for truckers can tell you how busy the parking area is, and help you greatly when planning your trip. Another very important thing to do when planning your trip is to try and avoid areas with high crime rates. It's always important not to take unnecessary risks whenever possible.
Consider Parking Early
Most truck drivers end their shifts around 4 pm, and that's when parking spots start to fill up. Starting your day earlier in the morning gives you the benefit of getting to the parking spot before it starts to get clogged. You can also choose to drive during the night and sleep during the day, this way you're guaranteed to get parking spots easier. This way you get more parking spaces to choose from and can inspect your truck in peace.
Take smaller truck stops into consideration
Sometimes you won't be able to get to truck stops before they start filling up. Well-known truck stops always fill up the fastest. If this is the case, you can look for smaller, less-known truck stops in the area. When planning your trip always look for these kinds of spots, to have in reserve in case you don't make it in time to your primary stop.
Park Smart
Now that you've arrived early at the parking spot it's time to choose the best spot. Parking in the front third of the truck stop which is closer to the buildings is not a good idea. This area has the most traffic which means it's more likely for an accident to happen. Parking near the end is more advisable since the traffic is not that heavy.
Look How Are Your Neighbors Parked
Try to avoid parking next to incorrectly parked trucks. If they are crossing the parking line or parked at an angle you should avoid parking next to them. After you've found a spot and parked your rig, write down the DOT or plate numbers of your neighbors, in case some of the cargo goes missing or there is damage to your truck.
Choose a Well-Lit Area
Areas with inadequate lighting are the most susceptible to robberies and vandalism. Try finding an area that is well-lit, like parking in front of home improvement and department stores. These areas have a lot of activity and sufficient lighting which means it's much safer to park there. Also if you want to max out your security, there are spots with guards and 24-hour surveillance, however, you will need to pay a fee to park there. If you are out of ideas about where to park ask your dispatcher for suggestions.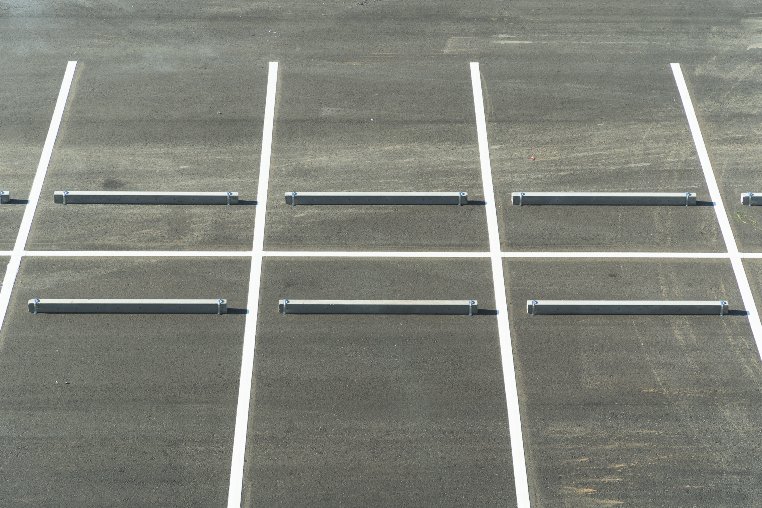 Some Tips on How You Could Sleep Safer
If you want to add another level of security, you can use your seatbelts or bungee cords and tie them to the doors. Don't forget to hide your valuables out of sight, which can attract unwanted attention from thieves. Also, another nice thing to invest in is window screens. 
Have a Dash Cam in Your Truck
Installing a dash cam in your cabin is a huge step in improving the safety of your truck. The mere sight of it will deter most thieves, but it will also document any hit-and-runs and other inconvenient situations.
Download Truck Parking Apps
There is a wide variety of apps that will make your parking much easier. Apps like Trucker Tools, Trucker Path, Waze, etc. can be convenient when in doubt about where to park. These apps provide maps, truck stops, how busy the stops are at the given time of day, and much more.
Drive with Nice Guys
We are always on the lookout for regional and OTR CDL Class A truck drivers. About 90% of our vehicles are newer trucks and trailers (2022 and 2023) available for lease to rent and own. If you want to be a part of the Nice Guys LLC team, contact us and we will get in touch with you as soon as possible.